Official Procedure Last Change September 7, 2017
Emergency Motions
See separate procedure for emergency motions to extend or impose automatic stay.
General Information
Any Motion can be filed on an emergency basis, by selecting the correct option as shown below.

If an emergency hearing and/or shortened notice time is being requested, a separate Motion for Expedited Hearing and/or Shortened Notice Time must be filed. It is not sufficient to simply include a request for a hearing or for shortened notice in the text of the emergency motion.
Some Motion types are always considered emergency filings, such as Motions to Extend or Impose Automatic Stay when filed more than 10 days after the date the case was filed. In these instances, the word Emergency is added automatically to the docket text.
Step-by-Step Instructions
Docket the Motion using the instructions for the type of motion that you are filing, as outlined in the relevant page of this Procedures Manual. Do not indicate that the Motion is amended, since this will prevent you from later indicating that the Motion is emergency: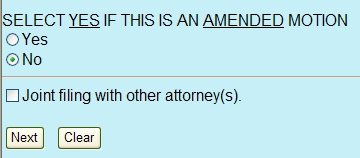 When you get to the Docket Text: Modify as Appropriate screen, select the Emergency option from the drop down list: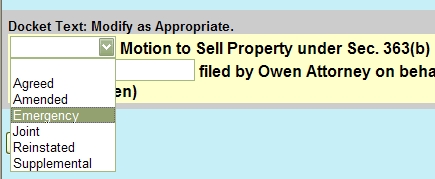 Selecting this option will send an automatic e-mail to Chambers to alert them that an emergency motion has been filed.