Street Address: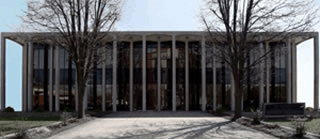 110 U.S. Courthouse
121 W Spring St Rm 110
New Albany, IN 47150 (map)
Mailing Address:
UNITED STATES BANKRUPTCY COURT
Southern District of Indiana
121 W Spring St Rm 110
New Albany, IN 47150
Counties Served in New Albany:
Clark, Crawford, Dearborn, Floyd, Harrison, Jackson, Jefferson, Jennings, Lawrence, Ohio, Orange, Ripley, Scott, Switzerland and Washington
Phone: (812) 542-4540
Fax: (812) 542-4541
Warning: Filing by fax is not allowed. Do not fax documents to any chambers or Clerk staff unless requested.
After 4:00 PM, the Bankruptcy Clerk may not be able to process new cases until the next business day.
Business Hours:
Monday - Friday 8:30 AM - 4:30 PM - EST
Closed weekends and Legal Holidays
Free Parking is available on many of the streets in the downtown area.
Disability Access:
Disability access to the courthouse is located at the main entrance.