Official Procedure Last Change March 23, 2022
Viewing or obtaining copies of documents on a case
General Information
A copy of the discharge along with a list of the recipient list can be obtained here: https://ecf.insb.uscourts.gov/cgi-bin/autoInsbDischarge.pl

Information on all cases filed on or after January 1, 1985 can be accessed via the 

PACER system. To view this information, you will need to register for a PACER user name and password

. You will need to contact the appropriate divisional office to

 

obtain information on cases filed before January 1, 1985, using the contact numbers

 

as shown below.

Individual documents filed on or after October 12, 2004 can also be accessed via 

the PACER system. (Documents filed between December 1st, 2003 and October 11, 2004 

are also accessible for many Chapter 11, Chapter 12 and Chapter 7 Asset cases.) If

 

the document number is underlined, this means that the document is available for

 

viewing online, provided that no access restrictions apply. If the document number

 

is not underlined, the document is not available for viewing online: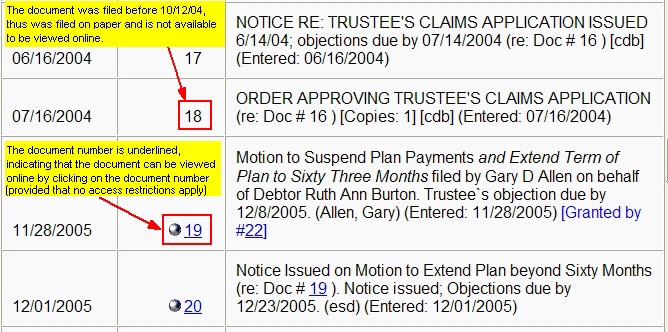 If a document is underlined but you are prevented from viewing it due to a security restriction, you may still be able to obtain a copy of the document. Contact the Clerk's Office for more information.
If a case is still open, any paper documents that it contains (i.e. documents filed 

before 10/12/04) can be viewed at the appropriate divisional office.

Shortly after a case containing paper documents is closed, it is shipped to the National Archives and Records Administration (NARA) located in Chicago, Illinois.  Copies 

of paper documents in cases that have been shipped to the National Archives must

 be obtained directly from that facility. Note that documents in cases closed fifteen 

years or more ago may have been destroyed. Contact the National Archives for more

 

information on such cases. For a smaller number of copies (typically about 100 pages

 or less), the SmartScan service is usually cheaper and faster.
If a document does not display properly, try using another supported browser.
Viewing case information via PACER
Log into PACER (Public Access to Court Electronic Records).
Note: If you do not have a PACER account, click here to register for one. You can also practice using the PACER training site, which allows you to become familiar with the service without incurring any fees.
Click Query.
Enter Social Security Number in the appropriate field. If you do not know that number, enter the first, middle and last name instead in the corresponding fields. Click Run Query.

If only one case is found matching the information you entered, you are taken straight to that case. Otherwise, a list of all matching cases is displayed. Click on the desired case to view case information.

Click Reports then Docket Report.
Click Run Report.

Scroll down through Docket Screen to view chronological list of documents filed in the case.
To Order Copies from the National Archives
For requests for copies up to and including 100 pages, see separate instructions on the SmartScan service. For requests exceeding 100 pages:
Contact the appropriate divisional office to obtain the transfer number and box number. 

(If the case has not yet been shipped to the National Archives, the divisional office will inform you.) You will need to provide the debtor's Social Security Number, case number or full name.
| | | |
| --- | --- | --- |
| Case number format | Divisional Office | Office Phone Number |
| xx-0xxxx | Indianapolis | (317) 229-3842 |
| xx-7xxxx | Evansville | (812) 434-6481 |
| xx-8xxxx | Terre Haute | (812) 434-6481 |
| xx-9xxxx | New Albany | (812) 542-4552 |
Call NARA to place your order at (773) 948-9030, or you can order online at https://eservices.archives.gov/orderonline. Alternatively, you can download and mail/fax the National Archives order form. (If using this form, leave the Location Number box blank.)