Official Procedure Last Change February 12, 2021
Agreed Motions
General Information
Any motion can be filed as an agreed motion by selecting the correct option as shown in the step-by-step instructions below.
Any requirements to file an objection notice along with the motion still apply - even though it is agreed - unless all parties who would normally be given an opportunity to object have signed off on the Agreed Motion. For example, an objection notice is required to be served on all creditors when filing an Agreed Motion for Abandonment and Relief from Stay.
Any requirements to file a Certificate of Service along with the motion still apply  - even if all interested parties have signed off on the Agreed Motion.
Agreed Motions for Relief from Stay (with or without abandonment) are exempt from the usual filing fee - even if an objection notice must still be sent. View information on how to obtain this exemption
If seeking to file an agreement to resolve a previous issue, see instructions on Agreed Entries.
Agreements pursuant to FRBP 4001(d) must be filed using that event.
Filing requirements 
Consult the filing requirements in the corresponding instructions for the particular motion type you are filing.
In addition:
The Agreed Motion must have been signed by all parties to the agreement.
The text of the Motion must not contain language referencing the Motion as an Agreed Order. Additionally, the phrase, "So Ordered" or its equivalent and/or a signature line for the Judge must be omitted.  
Pursuant to the Clerk's Notice dated 10/15/08, all Agreed Motions submitted on a Chapter 13 case post-confirmation must have the Chapter 13 trustee's signature.
For cases filed in the Evansville division, the above requirement for trustee's consent applies also to pre-confirmation Chapter 13 cases.
A proposed order must be uploaded.
Step-by-Step Instructions
Docket the Motion using the same menu option in CM/ECF that you would have used had the motion not been agreed. For instructions on doing so, consult the relevant page of this Procedures Manual that addresses the type of motion that you are filing.
Do not indicate that the Motion is amended, since this will prevent you from later indicating that the Motion is agreed: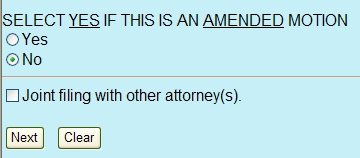 When you get to the Docket Text: Modify as Appropriate screen, select the Agreed option from the drop down list:

If you are filing an amended agreed motion, do not choose Amended from the drop down list. Instead, choose Agreed as shown above and type (amended) in the text box.